Accelerated Orthodontics
Dr Eckels understands that the only thing more exciting than getting your braces or aligners on, is getting them off! That's why he offers accelerated orthodontics. In fact, every treatment option we offer can include acceleration to get you to your new smile faster.
VPRO5
Using the VPro5 benefits our patients in several ways. The VPRO5 helps to ensure that your aligners are seated around your teeth as closely as possible, increasing the aligners' "grip" and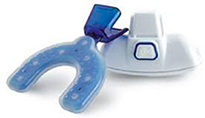 precision-fit on the teeth, and in turn, decreasing treatment time by about 40%. Another added benefit? Many patients using the VPro5 report improved comfort after changing aligners or having their braces adjusted.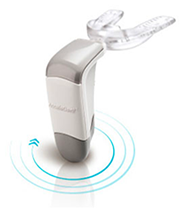 ACCELEDENT
AcceleDent Aura's SoftPulse Technology releases a safe and effective light force pulse that transmits through the roots of your teeth to the surrounding bone socket. This helps accelerate the cellular response and speeds the rate with which your teeth can move. When used in conjunction with orthodontics, AcceleDent Aura has been clinically proven to move teeth up to 40% faster.